There is no question that multiple sclerosis (MS) has a specific age of onset when symptoms first appear. MS rarely strikes before age ten or after age fifty, and symptoms generally appear between ages twenty and forty. Statistically, the average age of onset is twenty-eight, and the average age of diagnosis is thirty-three. (The average age of onset is slightly lower for women than men.)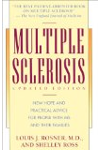 More About this Book
Multiple Sclerosis
Too often, multiple sclerosis is thought of only as "the crippler of young adults." But in fact, 75 percent of all people with MS will never need a wheelchair. In Multiple Sclerosis, Dr. Louis J....
Most people with multiple sclerosis (MS) begin experiencing symptoms between the ages of 20 and 50. But initial symptoms may be vague, may come and go with no pattern or may be attributed to other factors or conditions. For instance, a woman who experiences sudden bouts of vertigo once every few months may explain away the symptom by linking it to her menstrual cycle. Or, perhaps, someone who suddenly has a bit of blurry vision may blame too many hours at the office.
This content originally appeared on HealthyWomen.org.
Continue Learning about Multiple Sclerosis Symptoms