Optic nerve attack, also known as optic neuritis, is a common symptom of Multiple Sclerosis (MS). It is the first attack leading to a diagosis of MS in 20% of cases and can occur in up to 40% of patients with known MS.
The optic nerve attack, or optic neuritis, is third in frequency of occurrence. About 17 percent of multiple sclerosis (MS) attacks are of this type. Optic neuritis (ON) is one of the most clearly defined sensory symptoms in MS. It is also one of the most common symptoms a patient will first notice. When it strikes, the patient can often state the time and place it happens.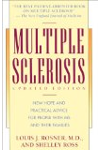 More About this Book
Multiple Sclerosis
Too often, multiple sclerosis is thought of only as "the crippler of young adults." But in fact, 75 percent of all people with MS will never need a wheelchair. In Multiple Sclerosis, Dr. Louis J....
Continue Learning about Multiple Sclerosis Symptoms