As you read the list of multiple sclerosis (MS) symptoms and signs, do not be dismayed. Keep in mind that no two patients have the same symptoms in the same way. MS attacks fall into four patterns that simplify the description of the disorder. Most attacks will have the features of only one of these patterns - the spinal cord attack, the brain stem-cerebellar attack, the optic nerve attack, or the cerebral attack. No one develops all these symptoms; most people will have only six or seven symptoms throughout the course of the disease. And take comfort in knowing that each and every symptom can remit completely, leaving no residual damage. Dramatic recoveries occur from even the worst attacks. Many of the symptoms described may have a simple explanation other than MS. Numbness, tingling, weakness, stiffness, urinary frequency, unsteadiness, incoordination, slurred speech, and blurred vision may each be due to some other disturbance, including some that are insignificant. Do not assume that every new symptom is a symptom of MS - let the doctor decide.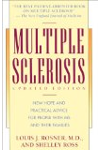 More About this Book
Multiple Sclerosis
Too often, multiple sclerosis is thought of only as "the crippler of young adults." But in fact, 75 percent of all people with MS will never need a wheelchair. In Multiple Sclerosis, Dr. Louis J....
Continue Learning about Multiple Sclerosis Symptoms