Here is a brief round up of some of the research work:
At the University of Wisconsin, Madison, Dr. Ian D. Duncan's team has isolated oligodendrocytes (myelin-making cells) from stem cells and succeeded in coaxing them to specialize (differentiate) into oligodendrocytes in increasing numbers and percentage using selective growth factors. They have also shown that these cells make myelin when transplanted into animals that are myelin-deficient, thus proving their functional capabilities.
At Cambridge University in England, Dr. Charles ffrench-Constant's team is working on new therapies to promote repair by remyelination. Dr. Robin Franklin of Cambridge has worked with Dr. David Rowitch of New York's Dana-Farber Cancer Institute to complete a genome scale screen of the myelin repair process, examining over 1,000 transcription factors. They will now focus on twenty-five factors to establish exactly when and where they are expressed during myelin repair.
Drs. Samuel Weiss (University of Calgary) and Jack Antel (Montreal Neurological Institute) have identified techniques to grow large numbers of human oligodendrocytes, enabling researchers to test drugs directly on human myelinating cells.
Two classes of nerve-protecting compounds will be tested in two single therapy clinical trials in the United Kingdom. Lamotrigine (currently used to prevent seizures in people with epilepsy) is being tested to see if it can prevent or slow progressive shrinking of the brain (atrophy) in people with secondary-progressive multiple sclerosis (MS). This trial is being run by Dr. Raj Kapoor of the National Hospital for Neurology and Neurosurgery, Queen Square, London.
The second is a large, multicenter study to see if the active compound in cannabis, THC (tetrahydrocan- nabinol) can slow the progressive phase of the disease, as has been suggested in Experimental allergic encephalomyelitis (EAE). This is being coordinated at the Peninsula Medical School in Plymouth, England.
Other teams are aggressively looking at epidemiology, genetics, and improvements in existing treatments. Pharmaceutical companies are aggressively trying to improve upon the success of disease-modifying drugs while lessening all side effects down to the irritation at the injection site. Of course, all eyes are still on stem-cell research. It is critical to resolve political and ethical issues.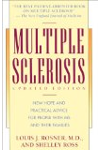 More About this Book
Multiple Sclerosis
Too often, multiple sclerosis is thought of only as "the crippler of young adults." But in fact, 75 percent of all people with MS will never need a wheelchair. In Multiple Sclerosis, Dr. Louis J....
Continue Learning about Multiple Sclerosis Research & Innovations