Experimental allergic encephalomyelitis (EAE) became the animal model for multiple sclerosis (MS) through a long process. EAE actually developed as a result of complications associated with the Pasteur antirabies vaccine in the 1890s. At that time some people were found to be "hypersensitive" to the Pasteur antirabies vaccine and developed paralysis - an unexpected reaction to the vaccine, which was made from rabbit myelin. In hypersensitive people, the foreign myelin stimulated the immune system to put out anti-myelin antibodies that then attached to the myelin in the human brain and caused damage. This was the first evidence of a myelin disease due to an autoimmune reaction.
In 1933 scientists discovered that by injecting normal brain tissue into monkeys over a period of time, they could produce an experimental demyelinating disease in the laboratory. In the 1940s scientists searching for a more practical animal model further refined EAE with the addition of an adjuvant - certain oils and bacterial cells that shortened the production of the disease from months to weeks. EAE could now be made by taking myelin from one monkey, mixing it with the adjuvant, and injecting it into the foot pad of another monkey. Within about eight days, the second monkey would get a neurological disease that had many signs of human MS and showed myelin damage in the brain and spinal cord. At that time scientists also learned how to produce the disease in other animal species. This new animal model for MS was a real boon to research except for one distinguishing characteristic - EAE was a one-time only disease, while MS is predominantly relapsing. It wasn't until 1983 that researchers were able to refine a chronic-relapsing EAE (strain 13) in guinea pigs. This is the closest laboratory model ever to MS. It fulfills four important criteria necessary to make it a laboratory analog for MS:
Delayed onset.
Chronic-progressive or -relapsing course.
Large plaques with demyelination associated with inflammation.
Widespread distribution of plaques.
While scientists continue to try to perfect EAE, it is a very good animal model for research.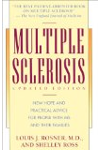 More About this Book
Multiple Sclerosis
Too often, multiple sclerosis is thought of only as "the crippler of young adults." But in fact, 75 percent of all people with MS will never need a wheelchair. In Multiple Sclerosis, Dr. Louis J....
Continue Learning about Multiple Sclerosis Research & Innovations