This is tragic. Besides the emotional impact, the economic impact of multiple sclerosis (MS) is enormous. In 1976 the U.S. government estimated that the total lifetime financial loss per patient was almost a quarter of a million dollars. Back in 1984 Dr. Herbert Baum, director of Data and Research Services, Elm Services, Inc., Rockville, Maryland, estimated the lifetime loss to be $416,500. On a national scale the annual loss for the MS population as a whole was estimated to be $1.6 billion. Today that figure would be even higher.These facts and figures are, frankly, intolerable. In addition to the financial impact, think of the loss of contributions made by the MS population. There could be a Jonas Salk, a Hemingway, an Iacocca in the ranks of the MS population.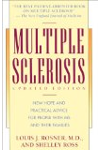 More About this Book
Multiple Sclerosis
Too often, multiple sclerosis is thought of only as "the crippler of young adults." But in fact, 75 percent of all people with MS will never need a wheelchair. In Multiple Sclerosis, Dr. Louis J....
Continue Learning about Multiple Sclerosis (MS)