Our knowledge of multiple sclerosis (MS) is fairly new. In the 1830s, two doctors in Europe began to write of a "new" disease, one never seen before. Jean Cruveilhier, professor of pathological anatomy in the Faculty of Medicine at the University of Paris, is credited with the first clinical report in 1835. During routine autopsies, he observed some "brown patches" in the central nervous system and described them to the medical community. Simultaneously, Robert Carswell was commissioned by the museum at University College in London to show a collection of sketches of the central nervous system that he had drawn as a young medical student. Among the two thousand color pictures he had drawn while observing autopsies were some that included unexplained "spots." In 1838, Carswell published an atlas of his drawings, along with written descriptions. In one chapter he wrote, "The anterior surface of the spinal cord presented a number of spots, from a quarter of an inch to half an inch in breadth."
Both Cruveilhier and Carswell only observed the effects of the disease during autopsies. A German doctor named Friedrich Theodor von Frerichs is given credit for the first diagnosis of the disease in a living subject. In 1849, he published a report more similar to the modern concept of MS. He wrote that it is more common in younger patients, that it is characterized by slow progression, that one side of the body is affected and then the other, and so on.
At about this time, too, reports of this disease started to appear outside medical literature. Perhaps the most famous historical case is recorded in the diary and letters of Sir Augustus Frederick d'Este (1794-1848), a grandson of George III of England and a cousin of Queen Victoria. In his published papers, he described his twenty-five years with recurring symptoms that included blurred vision, loss of balance, numbness in the limbs and paralysis.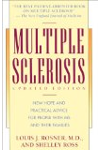 More About this Book
Multiple Sclerosis
Too often, multiple sclerosis is thought of only as "the crippler of young adults." But in fact, 75 percent of all people with MS will never need a wheelchair. In Multiple Sclerosis, Dr. Louis J....
Continue Learning about Multiple Sclerosis (MS)