Feature articles and personal anecdotes are no better. Some are honest and enlightening, such as Moira K. Griffin's "The Courage Not to Fall Apart" in Self magazine (January 1986). In the article, Griffin, an avid runner, writes poignantly:

Frankly, it's hard not to resent it when some women run by me now, and I think they're only trying to trim their thighs, while it takes blood, sweat and tears just to make mine work. But I also know I'm lucky that my thighs work as well as they do. Of course, this may not last. There's only one predictable thing about multiple sclerosis (MS), and that's that it's unpredictable. Maybe someday I won't be able to run. But right now I can, so I will - with joy.
This introspective article, however, is the exception rather then the rule. Unfortunately, editors find only the bleakest stories to be "inspirational." One that comes to mind is about a woman who, despite her horrible condition, had learned to communicate with her children through blinking. Such cases are so incredibly rare that it's a good idea to avoid such literature. While we think it's vital to learn the facts about MS, it serves no purpose to read about every depressing textbook tragedy. If you wanted to read about the flu, would you look for an article about people who die from it? Of course not. You'd want to know what happens to most people who get it and what you can do to get over it. Do the same with MS.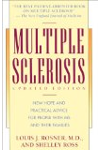 More About this Book
Multiple Sclerosis
Too often, multiple sclerosis is thought of only as "the crippler of young adults." But in fact, 75 percent of all people with MS will never need a wheelchair. In Multiple Sclerosis, Dr. Louis J....
Continue Learning about Multiple Sclerosis (MS)