Just as multiple sclerosis (MS) can be misdiagnosed as a psychological problem, a psychological problem can also be misdiagnosed as MS. Symptoms such as dizziness, fatigue, numbness, tingling, weakness, and loss of balance can be purely "hysterical." In fact, it is not uncommon to see a patient with MS and hysterical symptoms. A patient with a definite MS diagnosis might develop significant problems that are completely psychological and unrelated to the actual disease. A basic rule, however, is never to assume that a new complaint is another manifestation of MS. A new complaint could be psychological or due to another cause.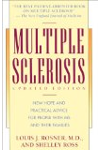 More About this Book
Multiple Sclerosis
Too often, multiple sclerosis is thought of only as "the crippler of young adults." But in fact, 75 percent of all people with MS will never need a wheelchair. In Multiple Sclerosis, Dr. Louis J....
Continue Learning about Multiple Sclerosis (MS)