In the past, when signs or symptoms were confined to the spinal cord and no dramatic remission occurred, it was frequently necessary to do a myelogram to rule out any compression of the spinal cord by, for example, a disc or tumor. In this test, dye is injected into the spinal fluid and an X-ray is taken. With the magnetic resonance imaging (MRI), this test is needed much less often.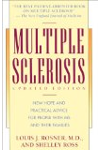 More About this Book
Multiple Sclerosis
Too often, multiple sclerosis is thought of only as "the crippler of young adults." But in fact, 75 percent of all people with MS will never need a wheelchair. In Multiple Sclerosis, Dr. Louis J....
Continue Learning about Multiple Sclerosis Diagnosis