With the visualization of lesions made possible by the magnetic resonance imaging (MRI), a doctor should be able to make an accurate diagnosis. But because lesions of other demyelinating diseases, such as somatosensory evoked potential (SSPE), will show up on an MRI, the doctor must also rely on clinical judgment. Although it is a fantastic breakthrough, the MRI is in no way the single diagnostic test for multiple sclerosis (MS). The doctor still must evaluate the results in the context of the patient's history and neurological examination.
Most doctors use three categories for MS diagnoses: definite MS, probable MS, and possible MS.
Definite MS: This diagnosis presents a clinical picture in which the patient has attacks with recovery and signs and symptoms that point to lesions in more than one location (optic nerve, brain stem, spinal cord, or cerebrum). All other reasonable possibilities are excluded, and one of three crucial lab tests, especially the MRI, shows typical MS findings.
Probable MS: In this diagnosis the clinical picture shows attacks with recovery, but the attacks may be all in the same spot; or there is evidence of more than one spot but no recovery or remission; or the lab tests are negative, which is not uncommon in an early case. Spinal fluid findings can be normal if tests are done when the disease is inactive. When the lesions are in the spinal cord only, they can be difficult to see, even with the MRI, and the MRI brain scan can also often be normal in the first three months of the disease.
Possible MS: This diagnosis is given when the lab tests are inconclusive but MS is still a possibility (along with others). The patient may have had only one attack, symptoms in only one spot, or a slowly progressive illness without the more common course of attacks and remission.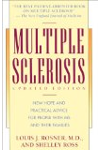 More About this Book
Multiple Sclerosis
Too often, multiple sclerosis is thought of only as "the crippler of young adults." But in fact, 75 percent of all people with MS will never need a wheelchair. In Multiple Sclerosis, Dr. Louis J....
Continue Learning about Multiple Sclerosis Diagnosis