Laboratory tests are performed to exclude other diseases such as lupus and Sjogren's syndrome which can mimic multiple sclerosis. In addition, laboratory tests are also useful in comparing the amount of certain proteins in the blood and cerebrospinal fluid which can assist in the diagnosis of multiple sclerosis.
First, there may not be an (MRI) in your immediate area. And in some other instances a clear-cut diagnosis still cannot be made with the MRI, a history, and a neurological examination. For instance, the history may suggest multiple sclerosis (MS), but only one lesion may be found. Or another disease must be confirmed or ruled out. Often, depending on the evaluation, the neurologist may suggest one of three categories of laboratory tests for further confirmation: spinal tap, evoked response tests, or imaging of the central nervous system.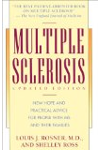 More About this Book
Multiple Sclerosis
Too often, multiple sclerosis is thought of only as "the crippler of young adults." But in fact, 75 percent of all people with MS will never need a wheelchair. In Multiple Sclerosis, Dr. Louis J....
Continue Learning about Multiple Sclerosis Diagnosis