The first serious modern claim for an "multiple sclerosis (MS) diet" was made in 1950, when Dr. Roy Swank of Oregon suggested that in geographical locations around the world with higher MS populations, the intake of fat in the diet is greater. Supporting this theory was the belief that fat particles in the blood, or possibly blockage in blood vessels, could cause myelin damage. None of this, however, could explain why white South Africans had a high-fat diet and low MS incidence. Ultimately, a study of a large group of MS patients followed for seventeen years proved the low-fat diet had no effect on the course of the disease. A lower death rate, along with reduction in frequency of attacks, was reported, however. The low-fat diet, of course, is a healthy diet in general and will improve general health by keeping weight down, lowering blood pressure, and preventing arteriosclerosis. These factors are more likely to have influenced the good test results. The low-fat diet is actually the favorite diet of the American Heart Association, and one I recommend, but not necessarily as a treatment for MS.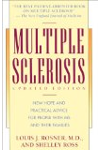 More About this Book
Multiple Sclerosis
Too often, multiple sclerosis is thought of only as "the crippler of young adults." But in fact, 75 percent of all people with MS will never need a wheelchair. In Multiple Sclerosis, Dr. Louis J....
Continue Learning about Multiple Sclerosis Causes & Risk Factors