The best way to get rid of 'smelly plaque,' a telltale sign of an unhealthy or imbalaced oral biofilm, is to follow my A-list advice to restore balance in the mouth -- choose a diet that is alkalizing, anti-inflammatory and antioxidant rich. Choose rich greens, high fiber, fresh fruits, especially apples, and lots of water. Eliminate harsh detergent toothpastes and alcohol-containg mouthwashes that disturb and dehydrate the oral biofilm. Remember smelly plaque is not the natural ecology of the mouth. It results from an imbalance in this natural ecology of the mouth and trying to "cover it up" is treating the symptom and not the cause. A healthy oral biofilm plaque is not 'sticky and smelly' but rater a thin odorless film that actually protects you and assists in other essential functions like digestion.
Many antimicrobial mouthwashes contain alcohol, or ethanol, which can kill bacteria and reduce the smell from plaque. However, the improvement is only temporary. The problem with ethanol is that it dries the mouth and teeth, which can be annoying and uncomfortable. Dry mouths may also become havens for bacteria to grow, so ethanol mouthwashes could lead to bad breath later. It is important to keep your mouth as clean as possible with good oral health habits, such as regular brushing and flossing.
Continue Learning about Mouth-Body Connection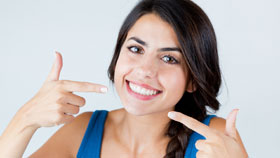 Oral hygiene is directly connected to overall health, both reflecting and affecting it. Poor oral hygiene can lead to caries, halitosis, abscess and heart disease, and bacteria in your mouth can travel to the rest of your body and ...
cause serious complications.
More