All athletes, particularly female endurance athletes, are at risk of iron depletion and iron deficiency anemia. Iron loss is increased in some athletes, particularly heavily training endurance athletes, because they are especially prone to gastrointestinal bleeding, heavy sweating, and hemolysis (the destruction of red blood cells), all of which cause iron loss.

Insufficient iron intake or reduced absorption, however, are the most probable causes of poor iron status. Some studies have found that female vegetarian runners had a similar iron intake but lower iron status than nonvegetarian runners. Most of the iron in a vegetarian diet is not as absorbable as that in meat. This may be of significance since low iron stores even without anemia have been associated with decreased endurance.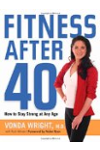 More About this Book
Fitness After 40: How to Stay Strong at Any Age
It's one of the undeniable facts of life. After we reach a certain age, our bodies change. No matter how fit we may have been at 20, we're very different people after 40. But growing older doesn't...
Continue Learning about Minerals