Biofeedback therapy is a method to help you make subtle changes to control your body. With this treatment, electrical sensors are placed on your body. These sensors help to measure and receive information about your muscles and movement. The biofeedback sensors show how movements you make can change your body in subtle ways. These subtle changes can treat a number of conditions, including overactive bladder.
With biofeedback, you are connected to a machine that informs you and your therapist when you are physically tensing and relaxing your body. With sensors placed over specific muscle sites, the therapist will read the tension in your muscles, heart rate, breathing pattern, the amount of sweat produced or body temperature. Any one or all these readings can let the therapist know if you are learning to relax. The ultimate goal of biofeedback is to use this skill outside the therapist's office when you are facing the real lions and tigers of life. If learned successfully, biofeedback can help you control your heart rate, blood pressure, breathing patterns, and muscle tension when you are not hooked up to the machine.

Essentially any bodily process that can be measured can be potentially controlled through biofeedback. It is especially effective in relieving chronic pain, particularly tension headaches. However, it can also help relieve temporomandibular joint dysfunction (TMJ), neck and shoulder pain, anxiety, irritable bowel syndrome (IBS), epilepsy, asthma, Raynaud's syndrome, neuromuscular reeducation, attention deficit/hyperactivity disorder (ADHD), hypertension, and incontinence.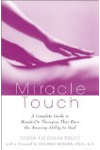 Continue Learning about Mind-Body Therapies