Powdered milk is made by evaporating fat-containing milk to dryness (removing most of the moisture or water). It has a much longer shelf life than liquid milk and does not need refrigeration. One-third cup of nonfat dry milk contains 80 calories, zero fat, eight grams of protein and 12 grams of carbohydrate.
Nonfat dry milk is made by removing water from pasteurized skim (nonfat or fat-free) milk. The product must contain 5 percent or less by weight of moisture and no more than 1.5 percent by weight of milk fat unless otherwise indicated. A number of tailor-made nonfat dry milks (as well as other dry milks), including lactose-reduced, low-sodium, and "instant" (i.e., disperses immediately in cold water), are available.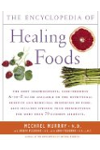 More About this Book
Encyclopedia of Healing Foods
From the bestselling authors of The Encyclopedia of Natural Medicine, the most comprehensive and practical guide available to the nutritional benefits and medicinal properties of virtually everything...
Continue Learning about Milk & Health