Evaporated milk is made by removing about 60 percent of milk's water, homogenizing, standardizing to the required percentages of components, adding vitamins (vitamin D up to 25 IU per ounce; vitamin A is optional), and stabilizing. Evaporated milk is a heat-sterilized product with an extended shelf life and is available in cans. The product must contain not less than 6.5 percent milk fat, not less than 16.5 percent nonfat milk solids, and not less than 23 percent total milk solids. Because of its yellowish color and cooked flavor, evaporated milk is generally limited to use in baking. Reduced-fat and nonfat versions of evaporated milk are available. Evaporated nonfat milk contains not less than 0.5 percent milk fat and 20 percent total milk solids.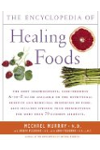 More About this Book
Encyclopedia of Healing Foods
From the bestselling authors of The Encyclopedia of Natural Medicine, the most comprehensive and practical guide available to the nutritional benefits and medicinal properties of virtually everything...
Continue Learning about Milk & Health