You can still use your regular migraine therapies if you have menstrual migraines. If your usual treatments aren't helpful for your menstrual attacks, you may want to include therapy that is specifically directed to those high-susceptibility headache days around each menstrual period. In many cases, you can prevent menstrual migraines from occurring by adding a brief course of a prevention therapy.

You will generally need to take prevention medications for several weeks or months before you will notice an improvement in non-menstrual migraines. Interestingly, however, a short course of a new prevention therapy or a temporary dosage increase in your usual daily prevention therapy around the time of your menstrual periods often successfully reduces menstrually triggered migraines.

Effective therapy to prevent migraine aggravation with your menstrual period is call mini-prophylaxis. Prophylaxis is another word for prevention, so mini-prophylaxis means a short course of a prevention therapy. Menstrual migraines may improve by using mini-prophylaxis with hormonal therapy or standard migraine drugs. If you increase your medication dose during the perimenstrual period, you may experience more side effects with this dose increase. Always talk to your healthcare provider before starting any new medication regimen.

If you are already taking a migraine prevention medication, talk to your doctor about temporarily increasing the dose during the perimenstrual time. For example, if you regularly take topiramate 25 mg at bedtime every day as a migraine prevention therapy, you might try increasing this dose to 50 mg at bedtime up to 5 days before you expect your period to start and for the first 2 days of menstrual bleeding. Then reduce your dose back to 25 mg for the remainder of the month. Again, be sure to consult with your healthcare provider before making any change in your usual medication regimen.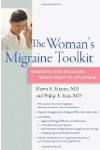 Continue Learning about Migraine Headache Treatment