Now we have more evidence that shows the link between sleep deprivation and migraines in particular: pain researchers from Missouri State University report that rats deprived of REM sleep showed changes in the expression of key proteins that suppress and trigger chronic pain.

In other words, the quality of sleep was associated with whether or not the rats' nervous system was aroused (hence leading to a headache) or shut down.

In the study, the researchers deprived one group of rats of REM sleep for three consecutive nights while allowing another group to sleep normally.

They found that the sleep deprivation caused increased expression of proteins p38 and PKA, which help regulate sensory response in facial nerves thought to play a key role in migraines, known as the trigeminal nerves.

Lack of REM sleep also triggered increased expression of the P2X3 protein, which is linked to the initiation of chronic pain.


When the environment gets dark at night, the brain produces an important sleep chemical, called melatonin. Bed time melatonin levels have been checked in people with and without migraine headaches. People with migraines have melatonin levels that are only two-thirds as high as the headache-free folks. This may explain why about one in three people with migraines complain of trouble falling asleep and staying asleep.

When people with migraines don't sleep enough, their migraines are more likely to be more frequent and more severe. Migraine sufferers who regularly sleep 6 or less hours at night have over 20 percent fewer headache-free days and almost 25 percent more days with severe headaches.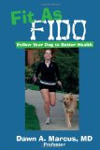 More About this Book
Fit As Fido: Follow Your Dog to Better Health
Let your dog teach you to live a happier, healthier, and more fulfilling life! Companionship with your pet can be used as a means and a motivator to increase your own physical and mental fitness....
Continue Learning about Migraine Headache Causes