Cognition is loosely defined as the mental process of knowing. It includes attention, language function, memory and visual/spatial capabilities. It also accounts for one's executive function, or decision-making capacity.
Cognition is the process of thinking and knowing. It involves multiple complex mental functions, including: visual, sensory, and emotional processing, language, reasoning, problem solving, attention, and memory. Cognition requires the coordinated effort of the entire brain.
Cognition includes many of the ways we use our brain as a tool of our intellect, or intellectual (thinking) functioning. These functions include perception and the ability to learn new material, to remember what we have learned, to learn language, to reason and to work with abstract ideas and thoughts, and to make judgments.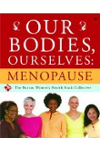 More About this Book
Our Bodies, Ourselves: Menopause
FROM THE EDITORS OF THE CLASSIC "BIBLE OF WOMEN'S HEALTH," A TRUSTWORTHY, UP-TO-DATE GUIDE TO HELP EVERY WOMAN NAVIGATE THE MENOPAUSE TRANSITION For decades, millions of women have relied on Our...
Continue Learning about Mental Health