Feel your feelings initially, without the need to understand why or what you are feeling. When your mind initially attempts to label your feelings, let it know, "No, thank you." Continue to simply feel the feeling fully without any resistance. Then, when you are toward the end of the feeling, you may find that you not just understand what this episode is about, but also what the deeper root cause behind the feeling is. If you do this without any blame or sense of victimization, it can be a powerful tool for helping you to learn about who you truly are and what your preferences are. Then you can make honest and informed choices in your life that are consistent with who you truly are, instead of who you were told and think that you should be. Feeling your feelings fully then becomes a wonderful step to happiness!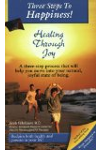 More About this Book
Three Steps to Happiness! Healing Through Joy
Happiness is our natural state of being. It is who we are. This happiness is obvious when you look at little children before they take on society's beliefs. Their natural state is to feel all of...
Continue Learning about Mental Health Therapies