I know what your ideal picture of retirement looks like: one hammock, one baby-blue ocean, four naps a day. That's great and all, but one of the best ways to insure that your mind doesn't liquidate into the consistency of a piña colada is to continue to give it a reason to function. Work it. Challenge it. Teach it new things. Just take a look at a massive study done on a population of more than 3,000 nuns.

Researchers measured the daily mental and physical activities of living nuns and autopsied those who died during the study. They found that 37 percent of the nuns who died had confirmed Alzheimer's disease—at least according to what was happening pathologically in their brains. The nuns who fared the best were the ones who were better educated. The nuns with Alzheimer's were, as young adults, less mentally and physically active outside their jobs than those without the disease. That's important because Alzheimer's disease takes decades to develop. The amazing part was that even if the nuns showed pathological signs of Alzheimer's, they had no clinical symptoms.

The point: Although these neurological tangles may be genetic, your ability to resist the effects of them is not. When you increase your learning during life, you decrease the risk of developing memory-related problems. That means your brain has a fighting chance if you keep it active and engaged, if you keep challenging it with new lessons, if you learn a new game or new hobby or new vocation.

You have to challenge your mind—even making it a little uncomfortable by pushing yourself to learn tasks that may not come naturally. Doing tough tasks reinforces the neural connections that are important to preserving memory. Like a clutch athlete, your mind has a way of rising to the occasion. Challenge it, and it will reward you.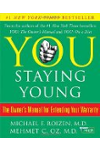 Continue Learning about Mental Fitness & Nervous System