Ever heard of mommy brain? Feel that your memory was sharper before kid number one and is gone after number three? There's some nutritional rationale for this, which goes back to the idea that when pregnant, the body preferentially gives our docosahexaenoic acid (DHA) over to the baby to support its brain development. So if we don't replenish, we net at a loss. Since DHA intake doesn't appear to save us in the late stage (once we have dementia or worse, a cognitive disease such as Alzheimer's), what we do know is that we have to restock our stores all along the way.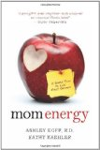 More About this Book
Mom Energy: A Simple Plan to Live Fully Charged
       From celebrated dietitian Ashley Koff and fitness trainer to the stars Kathy Kaehler comes Mom Energy, an exciting new way for moms to tap into their own natural and renewable sources of...
Continue Learning about Memory Loss