Here are some tips on how to use sticky notes to help you remember things:
When you're working on a task and think of something unrelated, write down the thought on a sticky note and put it on your desk, door or mirror. When you're finished with your project, you can attend to the task on the note.
Use sticky notes to indicate future action needed. If you have a big pile of mail or work you need to sort, prioritize and act upon, use sticky notes to remind you of the action needed for each item in the pile. When you get to each item, you'll know what you have to do.
Use sticky notes for errand reminders. Sticky notes are a great invention because they have so many uses. Keep a pack in the car (with a pencil) and write notes to help you remember errands, appointments and schedules. Stick notes on the dashboard so what you need to remember is "in your face."
Use bright sticky notes to catch your eye. When you have a stack of things to do, indicate those that need special or immediate attention by using bright colored paper or a sticky note placed to catch your eye. You'll be less likely to overlook these things.
Keep a sticky note with your personal data assistant (PDA) so if you can't enter information right away (in the car, in poor lighting or when you're in a hurry), you'll have a place to write the note before entering it. Some PDAs come with a case that holds notes.
Sticky notes can be used in dozens of ways to help you remember. When scheduled to go to an event where you might want to take pictures, put a reminder note on the back of the door so you don't forget to take your camera. Put notes on the door before leaving town to remember to set the thermostat back, take out the garbage and make sure all appliances are turned off. If you have an appointment, put a note on the bedroom or bathroom mirror. To remember to make a long distance call after 5:00, put a note on the TV screen so you'll see it when you watch the news. Sticky notes on your refrigerator door will keep your grocery list handy.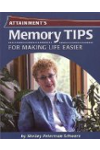 More About this Book
Memory Tips Making Life Easier
Written by memory and aging expert Shelley Peterman Schwarz, Memory Tips for Making Life Easier delivers just what its title promises. Written for health care professionals, family caregivers, and...
Continue Learning about Memory Loss