If you have memory difficulties, use a fictitious phone number to remember your Personal Identification Number (PIN) for your bank card or credit card. Make the last four numbers of the phone number your PIN and write the number in a notebook that you carry in your purse or organizer.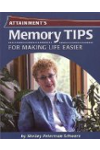 More About this Book
Memory Tips Making Life Easier
Written by memory and aging expert Shelley Peterman Schwarz, Memory Tips for Making Life Easier delivers just what its title promises. Written for health care professionals, family caregivers, and...
Continue Learning about Memory Loss