Several times a day, practice deep breathing exercises to improve your memory. Here's how: Relax and exhale completely through your mouth. Then, through your nose, draw in a deep breath -- you should feel yourself sitting or standing taller. Hold this breath for a few seconds to allow your body to absorb all the oxygen and then exhale through your mouth again, making an audible sound. Repeat this pattern three more times. As your brain receives more oxygen, you will likely find that you think better and remember more. As an added bonus you may even find yourself sitting and standing taller.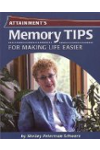 More About this Book
Memory Tips Making Life Easier
Written by memory and aging expert Shelley Peterman Schwarz, Memory Tips for Making Life Easier delivers just what its title promises. Written for health care professionals, family caregivers, and...
Continue Learning about Memory Loss