Keep track of addresses, maps and more in a small photo album. A small plastic photo album is a great way to keep track of addresses, phone numbers, directions and maps. Write all pertinent information on index cards and tuck the cards into the photo pockets. Your album stores neatly in the glove compartment, ready at a moment's notice if you lose your way or need to remember a name or phone number. An extra phone book stored in the trunk of your car can be a ready reference for locating addresses and telephone numbers.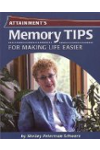 More About this Book
Memory Tips Making Life Easier
Written by memory and aging expert Shelley Peterman Schwarz, Memory Tips for Making Life Easier delivers just what its title promises. Written for health care professionals, family caregivers, and...
Continue Learning about Memory Loss