To help keep track of time, it would be helpful to:
Count the seconds
Purchase a specialty watch or one with multiple features (day, date, alarm, etc.)
Use a pen that displays the day and date
Purchase a digital clock with large numbers
Create a daily clock with colorful pictures to highlight activities
Use a calendar to display events and activities
To keep track of schedules, it would be helpful to:
Use an appointment book as a personal scheduler
Use a notebook to track daily schedules
Use spiral index cards
Hang a large wall calendar with everyone's schedule visible
To remember dates and deadlines, it would be helpful to:
Write special events on a calendar in red ink.
Use a pocket calendar to keep track of birthdays.
Create a system for paying bills on time.
Use a perpetual calendar to keep track of annual events.
Use a TimePAD to get personalized reminders.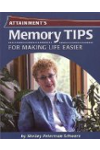 More About this Book
Memory Tips Making Life Easier
Written by memory and aging expert Shelley Peterman Schwarz, Memory Tips for Making Life Easier delivers just what its title promises. Written for health care professionals, family caregivers, and...
Continue Learning about Memory Loss