Obtain a map of your grocery store and write your grocery list by aisle. An organized list will help you avoid backtracking, buying on impulse or forgetting items.

If you find shopping to be distracting and chaotic, try going on Tuesdays. According to a survey by a national grocery association, Tuesday is the least busy day of the week.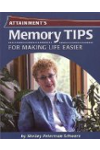 More About this Book
Memory Tips Making Life Easier
Written by memory and aging expert Shelley Peterman Schwarz, Memory Tips for Making Life Easier delivers just what its title promises. Written for health care professionals, family caregivers, and...
Continue Learning about Memory Loss