Tell your family and friends how they can help instead of fretting about your memory problems. Tell them to watch you write down a scheduled event. If you haven't written it down, they should assume you have forgotten it and call to remind you well in advance. They might also be enlisted to help you remember to take your medicine, keep track of appointments, get chores done or get dressed. We can all make life easier if we ask for the help we need and allow ourselves to accept help from those who love us.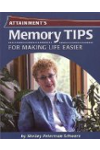 More About this Book
Memory Tips Making Life Easier
Written by memory and aging expert Shelley Peterman Schwarz, Memory Tips for Making Life Easier delivers just what its title promises. Written for health care professionals, family caregivers, and...
Continue Learning about Memory Loss