Here are some tips on how to use a computer to help you remember things:
Use your home computer to help remember where things are located. Create a document in your word processing program called WHERE.IT.IS. List the location of important papers and unusual items.
Set the alarm on your computer to remind you to take a break and put your feet up, take your medication or attend to food cooking on the stove.
If you use email regularly, send yourself reminder messages. An email message reduces clutter and doesn't get lost like scraps of paper might.
Use the AutoCorrect feature on your computer. If you repeatedly have difficulty spelling a complicated word or name, take a few moments to program your fingers by typing the word or name ten times in a row. If this technique doesn't imprint the word on your mind, automatic features in your word processor will help you remember complicated words, names and phrases.
Use the Bookmark feature. If you're working on a lengthy document and have to quit in the middle, create an electronic bookmark where you stopped so you can remember your place when you come back to it again.
Google it. The next time you have trouble remembering something, try looking it up online. Even while you are talking on the phone, you can quickly search the Internet, find the information you need and avoid appearing unprepared.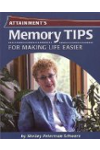 More About this Book
Memory Tips Making Life Easier
Written by memory and aging expert Shelley Peterman Schwarz, Memory Tips for Making Life Easier delivers just what its title promises. Written for health care professionals, family caregivers, and...
Continue Learning about Memory Loss