If you have memory difficulties, establish a pattern to lock your car for safety and peace of mind. Have you ever gotten out of your car, walked away and then had to go back to check that you locked it? If so, create a routine that you go through every time you leave your vehicle: Shut off the lights, secure the parking brake, lock the car doors and then double check the lights, brake and locks before you walk away. You might even tell yourself the car is secure. Following a specific routine and telling yourself you're doing each step will imprint the action on your mind.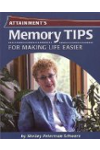 More About this Book
Memory Tips Making Life Easier
Written by memory and aging expert Shelley Peterman Schwarz, Memory Tips for Making Life Easier delivers just what its title promises. Written for health care professionals, family caregivers, and...
Continue Learning about Memory Loss