To help you remember what needs to be done tomorrow, next week or next month, try this: Take 11 manila folders with tabs across the top. Using a yellow highlighter, color 5 tabs and write one weekday on each tab, alternating the position of the tab. Use an orange highlighter on the next three folders and write "1 Week," "2 Weeks" and "3 Weeks" on them. Color the last three folders with a green highlighter and label them "1 Month," "2 Months" and "3 Months." Place paperwork in the appropriate folder. if something is not finished at the end of the day, transfer it to the next day's folder. At the end of the week, move all the remaining tasks to the appropriate folder for the following week.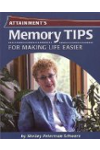 More About this Book
Memory Tips Making Life Easier
Written by memory and aging expert Shelley Peterman Schwarz, Memory Tips for Making Life Easier delivers just what its title promises. Written for health care professionals, family caregivers, and...
Continue Learning about Memory Loss