Here are a few notes on meditation:
-Your outlook during meditation should be positive and expectant but neutral. Don't focus on or expect results. For example, in the Meditation on Twin Hearts, illumination rarely comes during a first session, though you begin accruing the benefits of greater energy and health immediately. Approach it as a climber approaches a mountain: He's aware of the peak and expects to get there, yet he doesn't focus on it. He looks only to the next handhold or foothold.
-Some people experience shaking or strong emotions welling up within them. As indicated earlier, meditation is an indirect clearing technique, and trembling or sudden feelings are evidence of energetic blockages being cleared out and the emotions associated with those blockages being released. If you encounter any discomfort during meditation, respond according to your personal threshold. Some people breathe more deeply and continue with the meditation. If you wish, however, you can stop the session and sweep and clean the area where you feel discomfort. You can meditate later.
-Both meditations should take about 20 minutes. In the Meditation on Twin Hearts, that includes about 10 minutes for blessing the earth and 10 minutes for illumination. As you gain experience, you may spend more time on the illumination portion.
-Beginners may experience slight congestion in the chest or heart area as they bless the earth during the Meditation on Twin Hearts. If this is uncomfortable, simply sweep and clean the area after you are finished. If it gets too uncomfortable, stop your meditation, and sweep and clean the area. You can meditate later or the next day.
-When you are able to hold simultaneous awareness on the point of light and the gap in the Meditation on Twin Hearts, you may experience an inner explosion of light. This is normal, though it can be startling at first. Again, respond according to your own personal comfort threshold. If you can, simply breathe deeply and feel the feeling of the experience. If you need to, stop meditating and close with giving thanks, then perform grounding.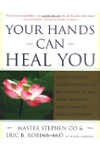 Continue Learning about Meditation