A finely tuned race car is more prone to mechanical problems than the family station wagon, and the well-conditioned professional athlete suffers more muscle pulls and strains than the casual jogger. Pushing a machine or the physical body to higher performance levels while increasing the intensity and frequency of training brings with it greater risks of breakdown. Similarly, the more you develop your personal supply of prana, and the more you move onto a path that includes spiritual as well as physical development, the more sensitive you will become to "energetic breakdowns," or contamination through diet, words, thoughts, deeds, personal habits, and personal interactions.
Here's another way to look at it. If a boulder rolls down a mountain hill and blocks part of a seldom-used road, it will cause a problem for the few people who use that road, but it won't create a massive traffic tie-up. If someone drops a suitcase in the middle of a heavily traveled interstate that cuts through a major city, however, traffic will be slowed down and backed up, possibly for miles. You are learning to convert your energy channels from small country roads to superhighways. The traffic on them will increase from the occasional slowmoving pick-up truck to constant daily travel by thousands of high-speed cars. You need to keep that freeway, your energy channels, as clear as possible of obstructions.
Higher-level energy work requires a higher level of energetic hygiene.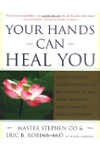 Continue Learning about Meditation