As you become more proficient with the Mindfulness Meditation, you may wish to hold your awareness on two and then all three of the focal points simultaneously throughout the meditation. This helps you move from single-point concentration to expanded awareness, the ability to be aware of many things at the same time. Expanded awareness is the ultimate goal of high-level meditation for it leads to what some call cosmic consciousness, a state in which the barriers between subject (meditator) and object (the world), between knower and known melt away. It is true oneness. The conscious mind can focus on only one thing at a time, but the unconscious mind, when it establishes contact with the higher self during periods of prolonged stillness, is capable of focusing on many things at once.
You have already received some elementary training in simultaneous awareness. In scanning, you learn to be aware of your breathing, your scanning target, and the sensitivity of your hand chakra. In projecting prana, you have to be concerned with your breathing, your source chakra, your projecting chakra, and your target. And in the illumination technique in the Meditation on Twin Hearts, you are instructed to be aware of your chanting, the light on your crown, the inner stillness, and the gap between the OMs. These all help you build expanded awareness. The progression from one to two to three focal points in the Mindfulness Meditation will give you a more formal practice path should you desire to work more purposefully on expanded awareness.
You need not try for expanded awareness to get the physical health benefits of the Mindfulness Meditation. The multiple focus is offered for those who are interested in the higher-level and more spiritual aspects of meditation.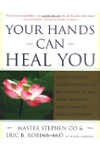 Continue Learning about Meditation Techniques