Since you're working with prana of greater quantity and higher quality in the Meditation on Twin Hearts, you need to be aware of certain aspects of the meditation, as well as several contraindications:
-People with high blood pressure, heart ailments, and glaucoma should not perform Meditation on Twin Hearts. This meditation generates tremendous energy and may aggravate those conditions.
-People under the age of 18 should not practice the illumination technique because their bodies are not fully mature and are unable to tolerate the energy this meditation produces.
-Before you do this meditation, pay close attention to the energetic cleanliness of your meditation environment. A dirty room may cancel out the effect of the meditation, or even contaminate you as you meditate.
-Make sure you do a full 5 minutes of physical exercise before and after meditating to avoid energetic congestion. We recommend that both routines include at least one set of Cleansing Physical Exercises, since they were specifically designed to open the body's energetic channels and spread around the energy.
-Perform the blessings with real feeling, not mechanically. Feel and concentrate on the feelings of love you conjure up as you bless the earth. Add visualization, if you wish. See a golden-pinkish light emitting from your hands and bathing the earth. See people's faces smiling with peace, love, and joy. See nations that are in conflict laying down their weapons. See people living together in harmony and actually performing good deeds for one another.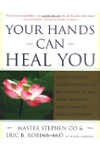 Continue Learning about Meditation Techniques