For your baseline, divide your body into four quadrants - low, middle, high, and top – and perform a specific scanning routine on two key points in each of the four quadrants: the outside of both knees (low quadrant), the outside of both hips (middle quadrant), the inside of both forearms (high quadrant), and both temples (top quadrant). These particular points are easy to reach, and taken together, they yield a representative reading of your entire aura. This shortcut enables you to establish your energetic baseline in minutes.
You scan these eight points in the four quadrants three times in a row in the same order: knees, hips, forearms, and then temples. This is one set. Then scan them a second time in the same order; that's the second set. Finally, scan them a third time, which is your third set.
Scanning a target several times in a row until the same readings are produced each time is the best way to ensure accuracy. For beginners especially, consistent results mean accurate results. When you become proficient, you will be able to scan once and interpret accurately and confidently. But we've seen in class that when beginning scanners try to interpret before they produce consistent readings, their results are unpredictable, incomplete, or erroneous. As a result, they become frustrated and begin to question whether scanning and this "energy stuff " really work.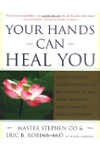 Continue Learning about Meditation Techniques