Health insurance companies affect patient care indirectly by driving what tests, medications, and procedures doctors can use to diagnose and treat patients and even which patients doctors can care for. However, the details of these decisions vary greatly based on what type of insurance you have (if any) and whether your doctor (or a hospital) takes it.
Given the strong influence they exert, health insurance companies are an easy target for ire, and everyone loves to take potshots at them. Of course, this isn't fair. Ethical health insurance companies are using your money to improve the quality of the health care you receive, and they fight to keep costs low—two services that no wise patient takes for granted, even if paying the insurance premium is a pain in the neck.

In fact, health insurers do a lot of bargaining on your behalf; they routinely use their heft to negotiate discounts of up to 60% off hospital service fees and up to 80% off physician charges for their members, and we'll bet you're sending holiday cards to plenty of people who haven't done as much for you.

Their reputation as cold-hearted penny-pinchers? In controlling the purse strings of health care, health insurance companies have to be hard-nosed; they must set boundaries and play by the rules, and you would too if given their task. Instead of vilifying health insurance companies for this, smart patients learn these rules so they can use them to their advantage.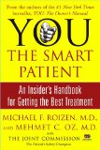 Continue Learning about Medicare