The process of drug discovery relies heavily on innovation, insight, and a lot of hard work. But in the past decade, a new industrial revolution has entered the laboratory. The introduction of automation and robotics into the drug discovery process has greatly enhanced the ability to explore and identify new drug candidates. Now, millions of chemical compounds can be manufactured in a matter of weeks. By mixing and matching these compounds like Lego® blocks, scientists are able to find the best combination that might one day become a drug candidate.

Using liquids, chemicals and sample plates, robotics can run tests on thousands of these compounds on biological samples for potential therapeutic activity. Walk into a modern research facility and you might be surprised to find that in some places, it looks more like a manufacturing plant. The large amounts of data produced are fed into computer systems for analysis and used by the researcher for another round of innovation and discovery.
Continue Learning about Medical Research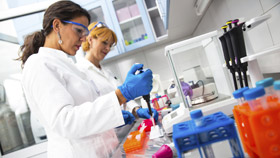 Medical research is conducted by scientists who are experts in a range of fields, and who conduct lab experiments and clinical trials to advance understanding of diseases and treatments. Your healthcare provider is a good source f...
or information about clinical trials that may be appropriate for you.
More