Here are 10 tips for getting through a crisis without making it worse:
If you can solve the problem, solve it!
Remember that distracting and self-soothing skills aren't going to make the problem go away; if you're getting through the crisis without making it worse, you're acting skillfully!
Be sure to make a list of your distracting and self-soothing skills, and use it. When you're acting from your emotional self, it's hard to think about how to get yourself through the situation.
Keep your list of skills handy, because you never know when you're going to need it; also, make the list as long as you possibly can in order to offer more options.
When thinking of ways to distract yourself, think of activities that will be at least somewhat enjoyable for you. And remember, the point is to distract your attention from the crisis, so if the activity you're doing isn't distracting you, try something else.
Remember that the way not to think about something isn't to try not to think about it. When you notice distressing thoughts creeping into your mind, just acknowledge them and distract yourself with an activity; the thoughts will go away on their own.
Although more difficult to practice when your emotions are intense, mindfulness can be helpful in getting you through a crisis. Don't throw it out just because it's hard!
Self-soothing not only helps during a crisis situation but is also good self-care that will help to prevent crises from arising. The better care you take of yourself, the better you'll be able to manage your emotions, so that even when difficult situations arise, you'll be more capable of handling them.
Before your next crisis, make a list of the reasons you don't want to engage in your old problem behaviors; that way, when the crisis hits, you can pull out your list and read it to yourself to help you not to act on your urge.
Remember that the skills for distracting yourself in a crisis are meant for temporary use only; if you're using them regularly, you're no longer distracting yourself in a crisis but practicing avoidance!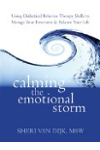 Continue Learning about Managing Negative Emotions