If you find yourself judging somebody, do not feel guilty. If you find that you are judging yourself for feeling guilty, do not blame yourself. These are simply old habits. When you catch yourself in the "blame game," remember that they are simply old habits that you have chosen to change. Drop the blame as soon as you catch yourself doing it. Do not blame yourself even if it took you hours or weeks to be aware that you were blaming. Continually and repeatedly simply drop the blame in mid-thought and shift your attention to something that feels good. If you see someone else blaming or judging, do not blame them and do not have expectations on them. This is your exercise, not theirs.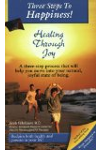 More About this Book
Three Steps to Happiness! Healing Through Joy
Happiness is our natural state of being. It is who we are. This happiness is obvious when you look at little children before they take on society's beliefs. Their natural state is to feel all of...
Chances are if you are blaming and judging others, you are also judging and blaming yourself. These ways of thinking are learned, and can be unlearned. In fact, you will probably be a happier person if you do, as you will feel better about yourself, and more accepting of others as well. It will help if you begin to monitor your thoughts about yourself and others. Begin by looking for the "shoulds" and "should nots". When you find them, ask yourself "Why should I?" or "Why shouldn`t he?" Probably you have learned rules of behavior that need to be challenged, or have been outgrown.
Continue Learning about Managing Negative Emotions