The symptoms of lung cancer can include a cough that will not go away, traces of blood in coughed up fluid, pain in the chest, tiredness, weakness and weight loss. In addition, people with a continuously present cough (i.e. smoker's cough) might experience changes in their cough.
Lung cancer is defined as a rapid, abnormal cell growth in the lungs and bronchial tubes, and is the leading cause of death from cancer. Close to 100,000 women and 114,000 men were estimated to have been diagnosed with it. So we urge you to be vigilant about any symptoms that pop up. If you've been suffering from a chronic cough, wheezing or other breathing difficulties, you should get yourself checked out. If you're experiencing increased mucus production (ick), you should get yourself checked out. And while these symptoms can often be confused for side effects of the common cold, more serious symptoms include the coughing up of blood, chest pains and recurrent pneumonia or bronchitis. In some cases, someone with lung cancer will also experience persistent hoarseness, difficulty swallowing and back pain.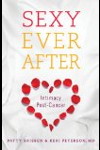 More About this Book
Sexy Ever After: Intimacy Post-Cancer
Recent studies show that 40-100 percent of men and women who have been treated for cancer have experienced some level of sexual dysfunction. Sexy Ever After: Intimacy Post-Cancer will help you reinvigorate your sex life after a cancer diagnosis and/or treatment by helping you redefine sex. Finally, the millions of men and women have been searching for answers and information about their post-cancer love lives (as well as their partners) have a resource. "Sexy Ever After: Intimacy Post-Cancer" will help you reinvigorate your sex life after a cancer diagnosis and/or treatment by helping you redefine sex. ABOUT THE AUTHORS:Patty Brisben is the CEO and founder of Pure Romance™, the nation's fastest-growing in-home direct sales company specializing in relationship enhancement products, intimacy education, and sexual health awareness. With over twenty-five years of experience working with women, she now leads tens of thousands of consultants who are touching the lives of women and couples nationwide. Through Pure Romance's Sexual Health Education Department, Patty assists women in recapturing their sensual and sexual selves following cancer diagnosis and treatment. In 2006 Patty created the Patty Brisben Foundation for Women's Sexual Health, which serves to strengthen, support, and enhance health services provided for women through education, research, and community outreach. Her notable work has put her in the national spotlight, with appearances on "The View" and CNN amongst others and profiles in leading business publications, including Forbes and Entrepreneur.Dr. Keri Peterson obtained her bachelor degree from Cornell University and received her medical degree from Mount Sinai School of Medicine. She completed post-graduate training in Internal Medicine at Mount Sinai Medical Center in New York City and is board certified in Internal Medicine. Dr. Peterson has been in private practice with a prominent medical group on the Upper East Side of Manhattan since 1999. She holds appointments at Lenox Hill Hospital and Mount Sinai Medical Center. She is a member of the American College of Physicians and the American Medical Association. With a demonstrated commitment to the advancement of medicine, Dr. Peterson has several publications in leading medical and scientific journals and has presented at distinguished medical symposiums. Dr. Peterson is a medical contributor and columnist for Women's Health Magazine and also appears frequently on the TODAY Show amongst others.
We usually see pulmonary symptoms as the presenting complaint of a patient with lung cancer. Cough, infection and bleeding are seen first. With the spread of the disease we see weakness, swelling, bone pain and, at times, neurologic symptoms.
Symptoms of lung cancer include coughing, chest pain or trouble breathing. A cough caused by lung cancer might be a new cough that won't go away or it might be a change to the way an old cough sounds or feels. Blood may be coughed up if the cancer has caused damage to the lungs.
A person with lung cancer may get an infection, like bronchitis or pneumonia, that doesn't get better even after antibiotics. The person may get tired easily, lose his or her appetite, and his or her voice can change.
Lung cancer can cause a number of symptoms, including:
nagging cough
chest, shoulder or back pain, which feels like a constant ache and may or may not be related to coughing
shortness of breath
fatigue and weakness
weight loss
repeated episodes of pneumonia or bronchitis
coughing up blood
hoarseness (from left-sided tumors if the nerve that controls the left vocal cord becomes injured by the tumor)
swelling of the neck, face and arms (from a right-sided tumor pressing on the main vein that drains the upper body)
symptoms related to a cancer spread (metastasis), such as headache, backache or weakness
Other symptoms may occur from a hormonal or immune response of the body due to the presence of the cancer. This is called paraneoplastic syndrome. Examples include hormone imbalances, nervous system complications and kidney problems. The symptoms can occur regardless of the location of the tumor or its spread. Sometimes symptoms occur before cancer is diagnosed and leads to a search for cancer.
Continue Learning about Lung Cancer Symptoms