Recently, lower doses of testosterone have been given to men who have low levels of testosterone. Two randomized controlled trials studied the effects of these lower doses. (And it's tough to do a "blind" controlled trial on testosterone, because its side effects-for example, acne and increase beard and hair growth-make it obvious who's taking testosterone.) Arterial aging events--stroke and heart disease--did decrease, and substantially. Disability and overall mortality also decreased, and quality of life increased.

However, these were small investigations that studied only men who showed clinical signs of testosterone deficiency (for example, they did not need to shave) and a low level of free testosterone (the amount not attached to protein in the blood and therefore able to travel into the tissues). In addition, one controlled trial indicated a benefit in quality of life and mortality rates for combining low doses of human growth hormone (HGH) with low doses of testosterone in men deficient in testosterone. These studies do not yet convey a RealAge effect for those with normal testosterone levels, especially since several of the studies show that even a small dose of testosterone can result in rage and aggressiveness problems in some patients. (I also worry that testosterone will increase the growth of dormant prostate cancers.) Nevertheless, the data look good that testosterone, when given in proper doses, may end up producing a RealAge benefit. We may also be able to use testosterone for both men and women. Even though testosterone is a male hormone and causes some undesirable body characteristics in women, it also seems to have some beneficial effect in increasing female libido and enjoyment of sex.

By the way, under no conditions should you take anabolic steroids unless they are specifically prescribed by a doctor. These powerful synthetic drugs mimic testosterone and are therefore used to build body tissue and muscle mass. They are extremely dangerous in some people, causing everything from cancer to extreme psychosis. If you take Age Reduction seriously, you should be especially careful to stay away from steroids, because they can add years-many years-to your RealAge.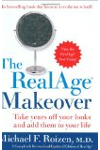 Continue Learning about Low Testosterone