Perhaps one's sense of his or her own usefulness to the family or society in general plays a role in how long that individual lives; because we're steadily eliminating many of the external factors that limit life, gains in longevity beyond those provided by exercise, good diet, and so on will come from attitudinal factors. To live long, we need the conviction that we need to live long, that we have something to contribute -- that is, wisdom -- if not to society then to our families or to ourselves, perhaps through continuing education, a second career, or volunteer work in the community. We need to stay engaged.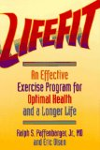 Continue Learning about Longevity
If you think the Fountain of Youth can be found inside a jar, you may want to think again. Longevity wellness isn't about appearing younger; it's about protecting your health. Consider increasing your life expectancy from the insi...
de out with things like adding more nuts to your diet, getting better quality sleep and nurturing your healthy relationships. Everything you do can be a step towards a longer life – just make sure they're the right ones.
More