Can your diet make your multiple sclerosis symptoms better or worse? In this WisePatient video, integrative neurologist Dr. Kulreet Chaudhary discusses why a healthy diet is so important for every MS patient.
Diets are all right as long as the multiple sclerosis (MS) patient isn't weakened to the point of becoming susceptible to infection. Diet does play a part in the management of MS, but only in keeping weight at a normal level. Intense crash diets are not recommended for anyone; they can lead to potassium deficiency and other problems.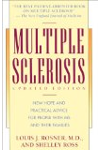 More About this Book
Multiple Sclerosis
Too often, multiple sclerosis is thought of only as "the crippler of young adults." But in fact, 75 percent of all people with MS will never need a wheelchair. In Multiple Sclerosis, Dr. Louis J....
Continue Learning about Living With Multiple Sclerosis