The first shock is the diagnosis. Exactly how a patient handles this depends not only on his or her personality but also on the doctor's. Unfortunately, difficulties are often compounded by misconceptions carried by family and friends, who are capable of making the shock worse. Because of this, it is best to involve as few people as possible.

Ideally, the doctor giving the diagnosis should have evaluated the patient's personality and made the discussion appropriate for the individual. One patient may find more comfort in hearing clinical details of the disease. Another may cope better without hearing any. The advertising executive may need to address her fear of losing the edge in her competitive world. A newlywed may need to talk about the possibility of future pregnancy. Unfortunately, the diagnosis is rarely handled this way. Usually the doctor has a stereotyped speech that is used for every patient.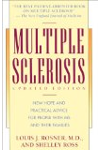 More About this Book
Multiple Sclerosis
Too often, multiple sclerosis is thought of only as "the crippler of young adults." But in fact, 75 percent of all people with MS will never need a wheelchair. In Multiple Sclerosis, Dr. Louis J....
Continue Learning about Living With Multiple Sclerosis