People with multiple sclerosis (MS) who use power-dependent equipment such as oxygen, environment control units, electric beds and lifts, and so forth should notify their local utility company so that everyone is prepared should an emergency power outage occur. (Your doctor will be asked to fill out a form indicating your medical problem and the type of equipment you use.)

In an emergency, the utility company will make every attempt to restore service to your location as soon as possible. However, it still is your responsibility to have a backup power source. In addition, your local utility company will tag your meters so that when repairs, meter changes, or routine maintenance necessitate that the power be cut off, they will notify you ahead of time so that you can make backup arrangements.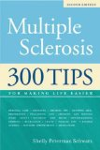 Continue Learning about Living With Multiple Sclerosis

Living with multiple sclerosis (MS) presents its own specific, but manageable set of challenges. Important keys to daily living with MS include finding or building a support group, self-monitoring your multiple sclerosis symptoms ...
and following your doctor's recommendations for managing MS pain. Find out more about living with multiple sclerosis from our experts.
More