Life sometimes throws challenges into the mix, even when one has a good relationship. We experience stress from daily demands and limitations on our abilities. Having multiple sclerosis (MS) can make things more challenging. We can become angry and irritated with the ones we love. This can affect your relationship with your partner.

To continue a positive relationship with your partner, you want to avoid causing pain or fear. One step is to develop open communication to avoid misunderstandings. This helps to establish and maintain a clear understanding about expectations. It is helpful to talk about any issues in advance and how best to manage any situations that may arise.
Multiple sclerosis (MS) strikes about two hundred people a week in addition to the more than a quarter of a million who have already been diagnosed as having the disease. But MS affects millions more. For every one person who lives with the disease, there is an "extended family" that will also be greatly impacted. Just because MS isn't in your central nervous system doesn't mean it's not in your life. Whether the person with MS is your spouse, your lover, your parent, your child, or your good friend, if you care about someone with MS, you've earned a seat on the same roller coaster. You've probably already felt panicked, helpless, guilty, heartbroken, frustrated, fearful, and more. Well, fasten your seat belt. Although there are no magical solutions to all of your problems, we have plenty of suggestions to make the ride a lot less bumpy.
MS is a disease that brings with it times of crisis. Relationships can either be strained, strengthened, or both. But it's important to realize that MS never ruins relationships - only people do. And no matter how well the person with MS is coping, it takes two to maintain the bonds of a relationship. The person with MS must sharpen his or her emotional skills, but so must the person close by. While the damage MS inflicts on the central nervous system is beyond your control, the damage it inflicts on your relationship isn't.
How relationships are affected is determined both by the personalities of those involved and by the individual case of MS. It would be impossible to discuss every potential relationship problem at every stage of every type of MS. We have therefore selected the universal issues. Some may be more relevant to milder cases, while others may only concern those with more severe disability. You'll know which sections apply to your situation.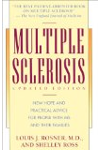 More About this Book
Multiple Sclerosis
Too often, multiple sclerosis is thought of only as "the crippler of young adults." But in fact, 75 percent of all people with MS will never need a wheelchair. In Multiple Sclerosis, Dr. Louis J....
Continue Learning about Living With Multiple Sclerosis